After being on your feet all day in your shoes, slipping on a pair of luxurious slippers will give you the best feeling. Since we spend most of our days at home, this is the best time to treat yourself to a new pair of cozy slippers. As with any footwear, it is worth finding house slippers that are good for your feet, well-cushioned, warm and stylish.
We are huge fans of house slippers and have a lot of knowledge of some of the best brands. As a result, we have reviewed for you the best house slippers brands that are the best in the market right now. You can check out our picks for the best house slippers for women and choose a brand that you feel will be best for you.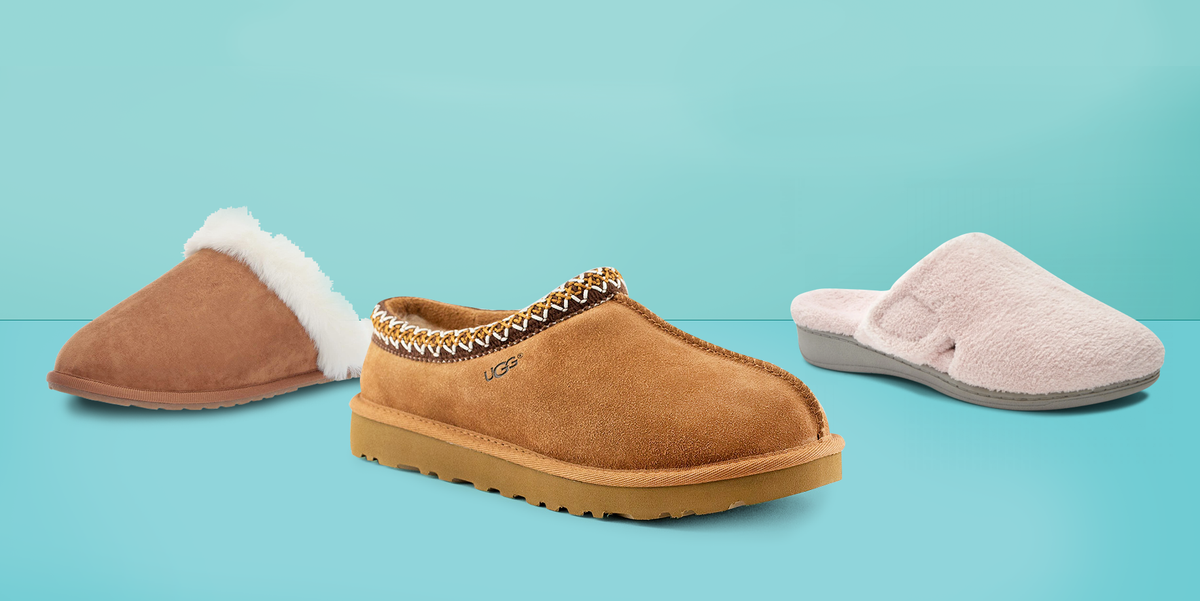 ---
What Makes the Best House Slippers for Women?

There are several brands of house slippers for women available in the market. However, not all of them have everything that you are looking for in a house slipper. So how can you ensure that you get your hands on the best house slippers that will live to your expectations? Here are the most important features that you should look for when shopping for the best house slippers for women.
Comfort

When it comes to any footwear, comfort should always be at the top of your priority list. Since you will be spending a lot of your time in the house, you want a pair of slippers that will be so comfortable that you will be looking forward to slipping them on your feet whenever you get the chance. The purpose of having a house slippers is so that you don't have to wear closed shoes all the time even when you are indoors.
Slipping on your slippers gives your feet the chance to relax and feel relief, especially after wearing shoes at work for the whole day. Thankfully, most house slippers are made to be very comfortable to your feet. However, this should not mean that any house slippers you come across will provide your feet with the comfort it needs. That is why when shopping for house slippers, look for the ones with ample cushioning in their insoles.
They should also be made of soft material like cotton or fleece. For a comfortable fit, the slipper should contain memory foam to provide cushioning.
2. Support

Next on your list should be support. Most people tend to overlook support-level when they are buying house slippers. However, just like any other footwear, if you are going to be wearing them for an extended amount of time, you need to ensure that the pair is capable of offering some level of support to your feet.
Most supportive house slippers have their insoles made of memory foam that is usually of high density. This ensures that whenever you slip your feet in these slippers, they will mold to the contours of your feet to give you the most comfortable fit and cushioning. As a result, the slipper will give your feet greater support hence alleviating any pain in your feet, back or hips.
Even if you will only be wearing your house slippers for only one or two hours a day, you still have to take care of your feet by taking every precaution against wearing them out further. Find a pair of slippers that will give your feet support and soothe them as you rest them for the next day.
3. Outsole

Even with house slippers, the outsole still matters. You should only buy a house slipper that will offer you with good traction. You don't want to be at risk of slipping while preparing dinner in the kitchen or while moving around in your house. Since most floors are either made of wood or tile, if your slipper does not provide you with enough grip, you may slip. This is the last thing you want to happen to you while you are in the comfort of your own home.
To ensure that you remain on your feet every time you walk around in your slippers, look for slippers with rubber soles. Preferably, the rubber outsole should have some tread on it. Most slippers will not have huge treads like those in normal footwear that are meant for extreme outdoor usage like hiking. Avoid house slippers with completely slick or flat bottoms.
4. Durability

Admittedly, most of the house slippers that we have reviewed here are not very expensive hence will be easy for you to replace if you have to. Still, you will want to buy a pair of slippers that will last long with you. Thankfully, we only selected brands that have been tried and tested and are known to be capable of holding up to extended wear.
The most durable slippers are usually made of rubber or microfiber. Several of the house slippers that we have reviewed have their upper connected to the sole through side-seam sewing. This type of design ensures that the slippers do not come apart at the seams even after several months of regular wearing.
Going for slippers with rubber soles also ensures that they don't wear out easily. You don't want a pair of slippers that will out after a few weeks of walking on the carpet. Although your pair of slippers probably will not last forever, it should be durable and should not fall apart as a result of indoor use.
5. Value

Some people may not like the idea of spending a lot of their money on footwear that they will only use around the house. To some people, a pair of house slippers could be their most important footwear. Quite a number of people spend most of their time at home-it may be due to health issues, work or personal circumstances. Having quality footwear that is made specifically for at-home-use is, therefore, a top priority to them.
If you are looking for quality house slippers that you will want to wear regularly, then you are in the right place. You can choose any model here and be guaranteed a stable, flexible and cushioned pair of slippers.
---
Reasons Why Wearing Slippers at Home is Ideal

For so many women, wearing fuzzy slippers while indoors has become the norm to the point that walking barefoot in the house feels strange. However, a few women still don't see the need for investing in a pair of house slippers. Instead, they prefer to walk around the house in their ordinary shoes. Here is why you should be wearing slippers while at home.
House Slippers Boost Productivity
Its common knowledge that people tend to be more productive when they are relaxed. Nothing gets you more relaxed while at home than wearing a pair of warm and fuzzy slippers. Most of the quality house slippers will also support your feet thereby remedying any foot pain that you may be experiencing.
Your House will Stay Clean
Outdoor shoes usually accumulate a lot of dirt and grime as you walk up and down in them. Stepping inside your house with them will transfer all the dirt to your floor or carpet. As a result, no matter how much effort you will be made to keep your house clean, it will end up getting dirty easily. Investing in house slippers that you can slip into whenever you get home will help you avoid this problem.
Lower Risk of Catching Colds and Flu
Studies have shown that chances of someone catching a cold or flu are high when they have cold feet. Your body's self-defense mechanism is altered whenever you expose your feet to cold. This is because when you get cold, your blood vessels constrict to reduce heat loss. Consequently, the rate of blood flow is reduced, negatively impacting the white blood cells that fight infections.
Low Risk of Fungal and Bacterial Infection
Areas such as the toilet and bathroom are some of the places in your house where there are risks of fungal and bacterial infections. Walking barefoot to such places may put you at risk of getting an infection. You can protect your feet from nasty infections by slipping them into a pair of house slippers.
Extending the Life of Your Socks
Some people may prefer to walk around the house wearing socks. However, doing this tends to wear out the socks very quickly. You will have to constantly replace your socks when they get loose and flimsy. Wearing house slippers over your socks will prolong the life of your socks while also keeping your feet warmer.
---
Top 8 Best House Slippers for Women
1. BOBS Sketchers Keepsakes Ice Angel – Best Overall Pick
What most reviewers love about these slippers is that you can wear them both indoors and outdoors. Whether you are indoors doing your house chores or running quick errands, you will love wearing the BOB Sketchers Ice Angel Slippers. One of the features that you will love about it is its thick rubber sole that is very soft on the inside yet super sturdy on the outside. This makes the BOBS Sketchers very comfortable to wear everywhere whenever you are tired of putting on your regular shoes.
The rubber outsole is very flexible and provides excellent traction, both on hard and soft floor surfaces. To make your feet comfortable, the BOBS Sketchers Women's Keepsakes features a footbed that is cushioned with memory foam. You can have them on all day without feeling any foot fatigue or discomfort. That's not all, for every purchase that you make, some part of the money is donated to the Petco Foundation to save the lives of dogs and cats.
Pros
Machine washable design ensures that you have an easy time cleaning them.
Excellent foot and arch support.
Warm and cozy.
Well-constructed hence will last long with you.
Can be worn outdoors.
They fit true to size.
Have grey faux fur that run as a lining for the footbed, adding more comfort.
Perfect for women with foot pains.
Easy to put on and take off.
Cons
Some reviewers think they are more of a shoe than a slipper.
Feels like platform heels to some users
2. World's Softest Cozy Slippers – Best Slipper Socks
Since you are spending all of your time in the house, you might not fancy having actual slippers on your feet all the time. A slipper sock is, therefore, the best and smartest option for you. With these slipper socks on your feet, every day will feel like a weekend. You will feel like you are walking on clouds.
These slipper socks have received a lot of glowing reviews from a lot of users that have had the chance to slip their feet in them. What most people love about them is their versatility and how easy it is to travel with them. You can easily stash them in an overnight bag since they are small enough. You can even buy a spare one for your guestroom so that your visitors too can feel at home while they are staying with you.
They feature a gripper bottom that provides you with a non-slip grip on the hard floor surfaces. They are also soft and comfortable so that you can stay on your feet all day without feeling any discomfort.
Pros
Excellent traction on hard surfaces.
Reasonably priced.
They don't shed when they are worn or when in the wash.
They do not shrink at all even after you use them for a long period.
Keeps your feet warm and cozy hence perfect for winter use.
Designed to fit your foot perfectly.
They are also flexible and feel like a thick fuzzy pair of socks.
The stitching is up to par.
Cons
Some users wish these slipper socks had a feminine look.
They cannot be worn outdoors.
3. Dearfoams Quilted Microfiber Terry Cog – Best for Wide Feet
If you have wide feet, then you will agree with me that finding the right slippers can be quite challenging. This is because most of the home slippers are usually narrow hence will only fit narrow feet. However, with the Dearfoams Quilted Microfiber Slipper, your search for the perfect slippers should be over.
Besides being perfect for wide feet, this slipper is also popular because of the non-slip grip that they offer on hard surfaces. You will also love their cloud-like cushioning that ensures your feet stay comfortable and relaxed for as long as you have them on. The insole consists of a multi-density cushioned memory foam that protects your feet from the hard floor.
We loved the quilted detailing that gives it an elegant touch and makes it look beautiful to the eye. You can lounge around your house all day in these slippers. You can also wear them outdoors to run short errands, grab your mail or walk your dog.
Their clog design ensures that you can easily slide them on or off your feet. They are also machine washable, giving you an easy time keeping them clean. Since they are made of absorbent material, you can wear them at the gym or even after a shower.
Pros
The memory foam insole makes them super comfortable.
They are durable even if you wear them daily.
Fits perfectly on wide feet.
Keeps the feet warm hence perfect for winter.
Easy to slip on and off.
They are very affordable.
Machine washable.
They have a cute design.
Cons
Some reviewers complained that the memory foam wears down to the bottom and becomes uncomfortable after a few weeks of use.
Lacks arch support.
4. UGG Coquette Slipper – Best with Shearling
When buying a pair of slippers, you need to factor in your self-care. That is why when you are staying indoors during the cold season, you need a slipper that will provide you with warmth. Buying a shearling pair is a smart choice. The UGG Women's Coquette Slipper is made of suede that is lined with shearling to provide your feet with major warmth.
That's not all; this slipper is not limited to indoor use. You can also wear it outdoors, thanks to its updated rubber outsole that is infused with cork, making it durable and capable to withstand the harshest outdoor surfaces. You can also comfortably wear them during the hot weather since they will not make your feet sweaty. They are also fitted with a sock liner that is made of genuine sheepskin. The sock liner will keep your feet dry by naturally wicking away any moisture.
In terms of comfort, they feel like pillows on your feet. They are built with amazing quality and will last with you for years. The outsole features a textured surface that provides maximum traction on all kinds of surfaces.
Pros
Very comfortable on the feet.
Keeps the feet warm and dry.
They are good quality slippers.
Sturdy rubber outsole perfect for both indoor and outdoor use.
Suitable for both summertime and wintertime.
Available in all feet sizes.
Provides solid support in the sole.
They come in several beautiful colors.
The soles are so thick.
They feel so fluffy and soft.
Cons
They are quite expensive.
They are not machine washable. You will have to buy a special branded cleaner and conditioner separately.
They run small, hence you should order the next size up.
5. HALLUCI Cross Band Soft Plush Slippers – Best Sandal Slippers
If you love sandal slippers, then HALLUCI Women's Cross Band is the best house slippers option for you. People who have used them praised how gorgeous they look and feel. They are very fluffy hence you will enjoy having them on and walking around your house. The fluffiness is as a result of its elegant fleece upper.
The upper features a cross band design that gives this slipper a cozy and chic look. It is also super comfortable on the feet thanks to its memory foam insole. The high-density foam ensures that your foot stays relaxed after a long day of wearing your shoes and being up on your feet. The memory foam is constructed in such a way to provide your feet with enough support while walking.
The HALLUCI Soft Plush Slippers consist of a solid EVA sole that not only provides a non-slip grip on the hard floor but is also waterproof. You can also wear this slipper outdoors for short errands like getting your mail or walking your dog within the neighborhood. The outsole material also ensures that the shoe does not scratch your floor.
Pros
Offers excellent support to your feet in all directions.
Made with premium quality material that ensures it does not lose shape.
The slipper is hand washable.
Super comfy and fluffy.
They are very relaxing to the feet hence can be worn all day.
Available in multiple sizes, including for people with wide feet.
Perfect fit that feels like a hug on your feet.
The price is affordable.
Cons
They shed a lot from the footbed.
You can't wear them outdoors every day.
6. Vionic Gemma Mule Slipper – Best Orthotic Slipper
If you have foot problems like plantar fasciitis, getting comfortable house slippers that are specifically meant for feet like yours is your top priority. The Vionic Women's Gemma Mule Slipper will be of great help and comfort for your aching feet. These slippers are designed to support your feet so that you can feel less heel pain while wearing them around the house.
The arch support in these orthotic shoes is high and firm and does not feel uncomfortable at all. Even better, the slippers feature a deep heel cup to keep your feet stable even when you are walking on an uneven surface. The midsole is made of EVA foam making it flexible and capable of absorbing any shock from your feet. This helps to reduce the stress on your ankles, feet, and knees.
Users have also noted that its adjustable strap adds more comfort to the slipper. The slipper is also fitted with a Velcro-type flap so that you can easily adjust it for your foot height or width. Even if you have tall or wide feet, you should not be worried whether these slippers will fit or not thanks to the Velcro-type flaps.
Pros
Secure fit since it is fitted with an adjustable closure strap.
The footbed is made of a Terrycloth material that is treated with odor-resistant anti-bacterial E
Helps to relieve foot aches and pains.
It can be worn both indoors and outdoors.
Durable outsole that provides non-slip traction even on smooth hard floors.
Provides excellent arch support.
Available in all foot sizes including wide feet.
Keeps the feet warm.
Cons
Quite expensive as compared to other house slippers.
Some users complained that the fabric peels away inside the shoe after months of use.
7. Wishcotton Light Breathable – Best for Older Women
If you are looking for the perfect gift to buy for your mum during this period, then the Wishcotton Light Breathable Nonslip Slippers is what you should get her. This slipper is designed to be extremely comfortable to wear and offers the kind of support that an older mum would need when walking. The footbed is made of memory foam to mold to the contour of the foot and to cushion it.
The midsole cushioning is further enhanced with an extra layer of EVA foam to absorb shock from the foot. The slipper also features a versatile sole that can handle both indoor and outdoor use. You can comfortably step outside the house for a walk in the neighborhood or to check your mailbox. The outsole is made of non-slip rubber to ensure that you stay on your feet even when walking on a wet slippery floor.
Once you slip your feet in these slippers, you wouldn't want to take them off the softness and comfort of these slippers. The inner lining is made of breathable cotton fabric lining to make your feet feel relaxed.
Pros
The secure back heel ensures that the slippers snug on your feet.
You don't need a shoehorn to slip them on.
The memory foam ensures that these slippers flex and conform to your feet.
The slipper is machine washable.
They are lightweight.
Can make a perfect gift for your mum.
Available in popular colors.
Its simple style makes it suitable for most women.
Made of high-quality materials hence durable.
Cons
The toe-box is a bit narrow for some.
They run small hence you should size up half-an-inch when ordering.
8. Wishcotton Light Breathable – Best for Older Women
Do you have a special lady in your life? It could be your sister, your mother, your best friend, your wife or girlfriend. This is the perfect gift you can get for a lady so she could slide her feet in them. The slipper is made of a slip-resistant outsole to ensure that your lady does not fall when wearing them. The memory foam inside ensures that your foot stays comfortable even if you wear it all day.
Besides being comfortable, these slippers are the most stylish on our list. Chances are that if you are planning to buy them as a gift to someone, you are going to want a pair for yourself too. The fleece material is fuzzy and plush to not only catch your eye but also offer you a soft wearing experience.
The slipper is a perfect balance of quality and design. It is available in 4 different bright colors. Most reviewers noted that the slippers fit as expected and keep the feet warm when it's cold. Their interior cozy lining prevents your feet from sweating by wicking away any moisture to keep them dry.
Pros
Anti-slip outsole ensures that you can noiselessly walk around your house.
The company offers a 100% money-back guarantee.
Easy to slip your feet on and off.
Soft and lightweight to give you the feeling of walking on clouds.
Available in all sizes.
The cushioning is firm, yet soft and comfortable.
Gives a snug fit on the foot.
They are super stylish.
Reasonably priced.
Cons
They run a bit small. You should, therefore, order up.
They are meant to be worn occasionally since they won't last long when you wear them daily.
FAQS
Q: Why is a House Slipper a Must? Why Can't Just Wear Socks Around the House?
A: There is nothing wrong with wearing socks around your house. If you want, you can even walk around your home barefoot. However, you may end up causing pain and discomfort to your feet. Wearing socks or walking barefoot exposes your delicate feet to the hard floor. Investing in a good pair of house slippers ensures that your feet stay protected, supported and warm.
Wearing house slippers also allows your feet some time to relax after being in closed shoes for the better part of your day. These slippers will save you from having to wear your outdoor shoes inside the house, bringing all the dirt and germs inside your house. Considering how affordable they are, we suggest that you go for a pair and see if they will live up to the hype. Surely, they will.
Q: Can I Wash my Slippers in a Washing Machine?
A: The answer is yes and no, depending on what kind of material your pair of the slipper is made of. If your slipper is made of cotton, then you can wash them inside your washing machine. You can wash them using either cold or warm water. You should avoid using hot water since this may make the slipper to shrink.
If your slipper is made of other materials like suede or leather, you might want to consider handwashing. You can use soapy water and scrub the slippers together to get the dirt off them. You can also use a damp cloth to spot wash them.
Q: How Often Should I Clean my Slippers?
A: When it comes to how often you should do the cleaning, following the label instruction would be best. However, if you don't have those instructions at your disposal, then you can consider washing your slippers once or twice a week.
Q: Can I Put My House Slippers in the Dryer?
A: For cotton slippers, yes. Once you take them off the washing machine, you can toss them inside the dryer. However, you should ensure that you set the dryer to low heat. However, the best way you could dry your slippers is through air-drying. When it comes to slippers made of leather or suede, air drying is the only option.
Although putting your slippers out to dry may take a while, it is worth the wait. Exposing your slippers to too much heat may damage them or make them shrink.
Q: When Should I Replace My Slippers?
A: All slippers will stretch out over time. The more you put them under regular use, the more worn out their cozy EVA foam footbed will get. However, most slippers should last with you for at least a year. Replacing your pair of home slippers once a year shouldn't be bad. Should you notice that the cushioning of your slippers has deteriorated, you can treat yourself to a new pair.
When buying slippers during the colder months, it's a good idea to go for heavier slippers that have fleece or shearling. During the warm months, a lighter pair would do.
Q: Which House Slipper is the Most Comfortable?
A: Well, this will depend on you. All the slippers on our list are cozy. However, when it comes to comfort, it will depend on your personal preference. The kind of comfort you are looking for will also depend on your present foot conditions. If you are suffering from foot pains as a result of plantar fasciitis, an orthotic slipper would be the most comfortable for you.
Conclusion
Keeping your feet comfortable and warm indoors should be as important to you as keeping them safe and comfortable while you are outdoors. Wearing the best house slippers for women will keep your feet comfortable, warm and protected from the hard floor. You can pick your choice depending on your preferences and needs.
When it comes to our pick, we would recommend the BOBS Sketchers Women's Keepsakes Ice Angel Slipper. This is because besides wearing them indoors, you can also comfortably walk in them while you are outdoors. They are warm and cozy and will offer excellent support to your feet. The best part is that they are machine washable, giving you an easy time cleaning them.